SOCIAL MEDIA MANAGEMENT FOR STARTUPS
When it comes to public relations, social media is no longer a minor player that can be easily ignored. In many instances, it is the primary channel used to connect with your customers. Social media can help you build brand awareness, share pivotal messages, elicit feedback from potential and current customers, and provide responsive, thoughtful customer service. Startups backed by Y Combinator and many other notable early-stage investors turn to Beantown Media Ventures (BMV) to scale and harness the full power of social media that will reap bottom-line business results.
Social media marketing

to drive engagement and revenue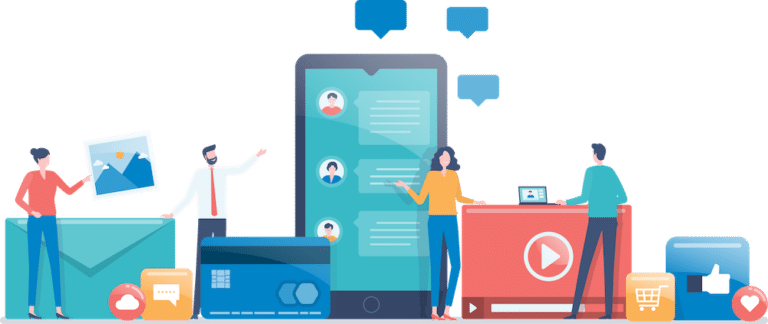 Tracking in real-time what people say about your company — and your competitors — can shift and enhance your company's image and brand. Leveraging your social media reach in thoughtful, compelling ways can help your company stand out. Fortunately, the social media for startups practice at BMV can help you develop a startup marketing strategy using social media.
Our team can focus on forging relationships with influencers to help organically drive your message and create relationships with the media to draw attention to your brand. Over the last ten years, we have helped cutting-edge companies build their brands and expand their reach. Our social media agency for startups can help your business get the attention it deserves.
"BMV creates great branded content and distributes it across social media and digital channels for maximum awareness with minimal input from us. Very helpful while we grow our team and scale the VergeSense brand simultaneously."

Kanav Dhir, Senior Product Manager of YC-backed VergeSense
"After raising our Series A round we aimed to rapidly scale Open Listings awareness with prospective homebuyers both nationally and in key local markets. BMV was instrumental in assisting us with this effort by developing and executing on a content and social media marketing plan to serve prospective leads engaging branded content, while driving mainstream media coverage with the likes of Fast Company, Refinery29, Cheddar and CNBC."

Judd Schoenholtz, CEO of YC-backed Open Listings
360 Social Media Campaigns
As a startup it's difficult to know which channels your company should use, and how, as you scale. As a digital marketing agency with deep domain expertise in social media, BMV can help you create multi-channel engagement with prospective customers across Facebook, Instagram, LinkedIn, Twitter, TikTok, and nascent social media channels. We provide services that can fit with the size and resources of any sized startup team — from strategizing social media editorial calendars to amplifying engagement and managing social media handles day-to-day.
Content is king in social media, but creating that content takes more than choosing shareable memes, pithy quotes, or entertaining videos. BMV produces social media content at scale to maximize engagement and drive brand awareness. From vertical videos to graphics and blog posts, we specialize in developing content that grabs viewers and keeps their attention. We'll gladly work with you to produce content that will build your brand, whether we're supplementing your efforts or managing your entire campaign.
Social media demands that savvy marketers respond and engage continually to raise brand awareness. However, there's a line between constant messaging and pushing your message too aggressively. As your dedicated social media agency, we'll use the latest data to determine how often to post and what kind of messaging offers the most significant impact. From sharing Slack channels to align on real-time campaigns to day-to-day management of Hootsuite's social media dashboard to control handles across multiple platforms, BMV is well versed in real-time social media marketing.
Another advantage of social media is that it can provide real-time metrics to measure the breadth and depth of brand affinity and purchase paths. Our unique social media services for startups include tracking your social media campaign as it unfolds, measuring its success, and analyzing the data so that you understand its impact. We'll reveal the story behind the numbers, using those metrics to modify and adapt your campaign in real-time to maximize effectiveness and determine where paid social media might best benefit headway with organic efforts.