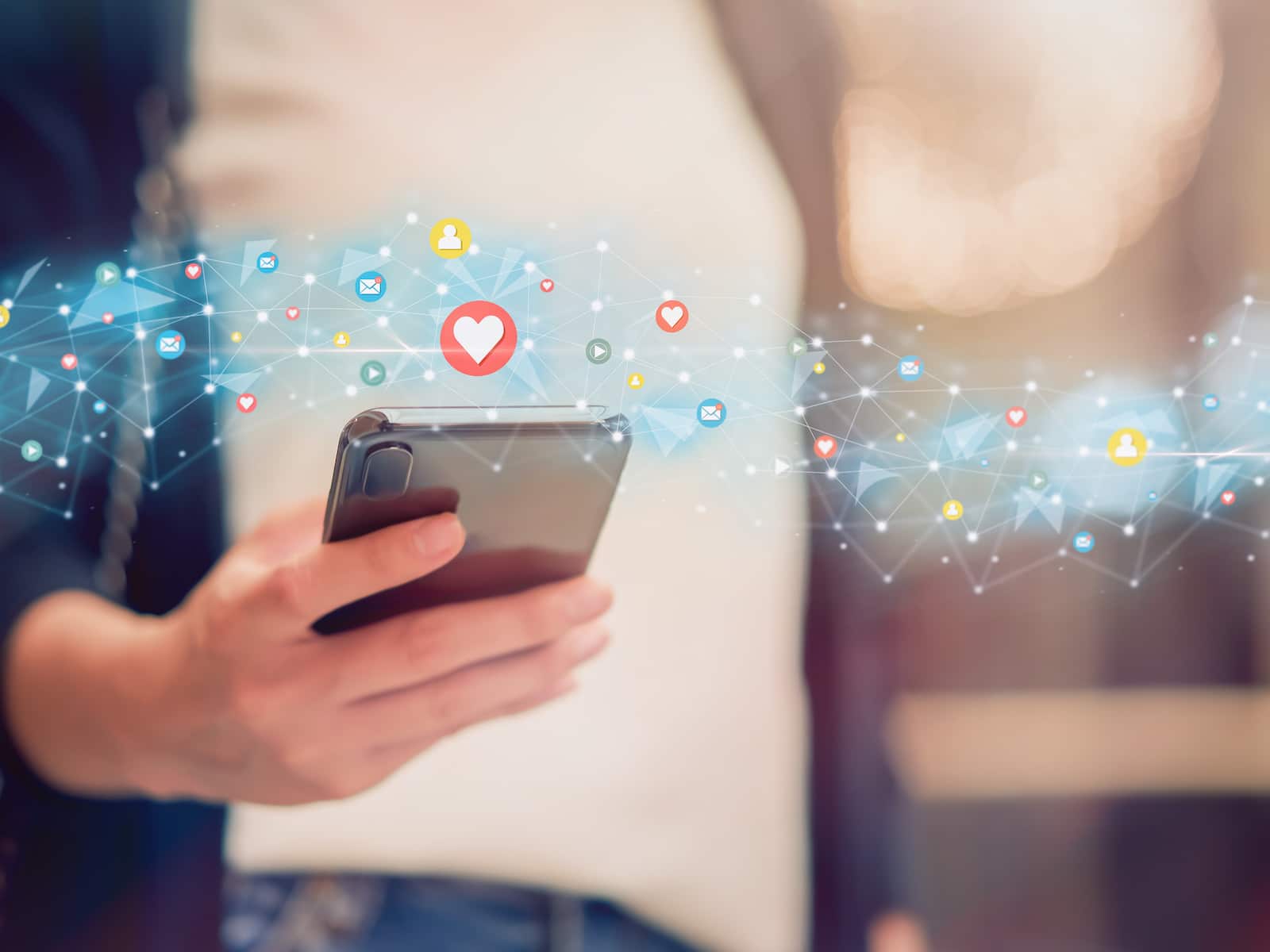 So, you've created an amazing product or service and are ready to present your startup to the world. Congrats! Now it's time to figure out the best way to spread the word.
Having a successful social media strategy is no longer a small part of the overall marketing toolbox.
An active social media presence is absolutely essential for any new business hoping to maintain a professional image, generate leads, and grow revenue. In fact, according to one study small businesses claimed that social media marketing provided the biggest opportunity to build brand awareness – a.k.a. gain new business. 
Clearly business success and social media marketing go hand in hand, but why? What exactly does social media do for a startup? 
It's helpful to think about social media not as something you "have to do" because everyone else is doing it, but as a strategic tool to help accomplish your overarching goals and benefit your business. 
These are the five biggest benefits of utilizing social media platforms: 
1) Brand Recognition: One of the first places people go to check out a brand is social media. With consistent posting, comes a growing audience and more opportunities for consumers to gain interest in your products and services. This is equally true to B2B companies where the individual employees you are trying to sell to are also checking out your brand on social platforms and following along to learn from thought leadership content and product updates — more on this later. 
2) Lead Generation: As a brand one of your biggest goals with social media should be to drive traffic to your website to generate true leads. Using these platforms correctly will drive people to your website and inevitably grow your mailing list. 
4) Revenue Growth: Because a successful social media strategy sends viewers to your website, that means they also get sent to your sales funnel and over time they buy more. 
3) Improved SEO: By promoting your website and brand content like blog posts, podcasts, digital events, promotions and more on your social platforms, you're much more likely to see increased traffic to your website. AKA you're increasing pageviews and boosting SEO which are all good things for where you land on a relevant Google search, which is where nearly 90% of people go to search the internet. 
5) Direct Customer Communication: Social media is the best way for brands to directly communicate with consumers and get feedback on products. At a time when people increasingly demand trust, connection and stability from brands, engaging with your customers on social media is a sure fire way to keep them interested and loyal. Using social media as an open line of communication with customers is likely to reduce attrition and lead to repeat customers down the road.  
But having social media profiles alone is not enough to reap these benefits. Putting a strategy in place to share the news of  your startup's launch and keep the momentum going thereafter is key to growing your social media following and business. 
How to Grow Your Startup's Social Media Accounts from 0 to 1000
Choose the right profiles.
As previously mentioned, social media marketing has massive potential for building brand recognition, generating leads, and growing revenue. But how your brand shows up will have a major impact on audience perception. 
There are many social media platforms to grow your business. Facebook, Instagram, Twitter, LinkedIn, YouTube, TikTok, Pinterest, and now Clubhouse are all common targets for businesses to engage in social media marketing, but showing up on all of these platforms may not be the best option for your startup. 
Having a "throw it all and see what sticks" strategy may sound enticing but it's not the best way to grow a loyal audience. Instead, it's best to pick one to two of these platforms that best align with your goals. From there you'll need to show up consistently, engage with your audience, and create enticing content. Or, you work with an agency like BMV to help run your social media accounts and create content for more platforms. 
For many of our startup clients, Facebook, Instagram, LinkedIn, and Twitter are the platforms we recommend starting with. Generally, the audience breakdown looks a little something like this: Facebook and Instagram for customer engagement, LinkedIn for investor relations, and Twitter for a combination of the two. For D2C brands targeting younger audiences, it could make more sense to focus your social strategy on platforms like TikTok and YouTube where Gen Z is plentiful and video reigns king. 
To determine which platforms are best for your SM strategy, ask yourself these questions: 
Who is my target audience? 

What do I hope to promote? 

What platforms am I already comfortable using?

Am I more confident creating video content or static content? 

How much time do I have to create content for each platform? 
Set impactful goals.
Social media goals hold your content creators accountable for maintaining a standard and direction for your social channels, and help prioritize the time it takes to actually create branded, original content — which tends to be essential for startups that are usually tight on time. 
By determining your overall business goals, it's easy to hone in on what types of content are most important to focus on through the initial months after your startup's launch. 
Most new startups tend to focus their social media efforts on these three goals: 
Building brand awareness

Investor relations

Driving people to the website (for lead gen and SEO purposes)
After launch, your goals may transform to include things like community engagement, increased revenue, reputation management, recruiting, product launch… the list goes on. 
This is an example of what a social media goal could look like for increasing brand awareness on Instagram: 
"Increase engagement (likes, comments, saves, shares) by 7% and brand tags by 3% over the course of 3 months." 
Or this: 
"Acquire 20 new followers every month for the first 3 months after launch." 
Notice that the above examples are S.M.A.R.T. goals — Specific, Measurable, Achievable, Realistic, and Time-sensitive. Setting S.M.A.R.T. goals are so important to moving the needle and meeting your overall objectives. By creating measurable goals, you'll be better equipped to understand what kinds of social media content resonates best with your audience and what isn't working so well, and modify your strategy to increase engagement and build your online presence. 
Plan your content ahead of time. 
In business, timing is everything, especially during a startup's initial launch. That's why it is so important to plan your social media content around ahead of time. 
In general, your social media content should be planned out anywhere from one week to one month in advance. I say this with the caveat that your social media strategy should stay agile, and you should have the ability to change your pre-planned at any point before they are published. 
In the long run, planning content ahead of time will stop you from waking up every morning thinking, "what do I post today to keep our audience engaged?" Or worse, fall into content fatigue and stop posting all together. But during a company launch, planning content ahead of time also helps brands maintain cohesive messaging, timing, and branding across all channels. This way, no matter where a consumer sees your brand's information they will find a consistent story and product. 
And if you're asking yourself, "What should we be sharing on our social channels?" don't worry because we have a go-to formula for startup launch social channels to maximize engagement. 
Prior to your launch, it's good to create some buzz about your brand. This can be done by teasing your product, sharing pieces of your brand story, or curating relevant industry content posted by external sources, like our client Preddio Technologies did below.
On the day of your launch, start by sharing the most exciting part of your day: your company's announcement! Share out the press release and explain why you're so excited to finally share your project with the world. Throughout the rest of the week, share more of your brand story, your 'why', your mission, vision, blogs, podcast and products with the world. 
This is where the fun starts! Here are some ideas to get you started: 
Link to your announcement blog post with a product image to continue the excitement around your launch. Link to a news story about your business as social proof for your business idea. Post an image of your new startup team to humanize your brand. Create graphics with quotes from your executive team to inspire others in your industry. Supply educational content about your industry through images, videos, and graphic content to keep your audience engaged and entertained. Host a live stream talking about why you started the company to build a deeper connection with anyone who may be watching. 
The trick is to get creative with your assets, and know there is always something interesting to talk about on social media that will track back to your goals and build engagement. 
While you're at it, here are some of our favorite tools to help you get started: 
Engage with your audience
The purpose of social media is for conversation and collaboration. So use these new platforms to engage with your audience to learn their wants, needs, struggles, wins, and everything else you need for your product to succeed. Creating conversations and building relationships through social media platforms will build momentum among your audience to eventually grow your following, your influence, and your revenue. 
To easily engage your audience, post content that encourages them to take action — also known as a CTA (call to action). Some popular CTAs include "Check out our recent blog post here: [LINK]" "Comment your favorite XYZ below!" "Watch our most recent story to find out more" "Click the link in our bio for more information." 
Your CTA can be anything that draws back to your original goals. If your goal is to drive traffic to your website, start putting your links in your posts. If your goal is to increase followers, encourage people to tag their friends or share your posts. 
But beyond getting your audience to engage with you, you should also engage with them! This means responding to their DMs and comments, sharing tweets that tag your business, and being transparent when someone publicly brings up a concern. 
By engaging in a two-way conversation, your audience will start to transform into a community. A community of people who believe in your mission and product, and are championing your success. This is where you'll really start to see growth. 
So there you have it, BMV's exact formula for launching your startup's social media profiles. By setting impactful goals, preparing your content, and consistently engaging with your audience, you'll be well on your way to 1K.
Are you looking for a professional team of content creators to support your startup's launch or revamp your existing social media profiles? Reach out to us today!