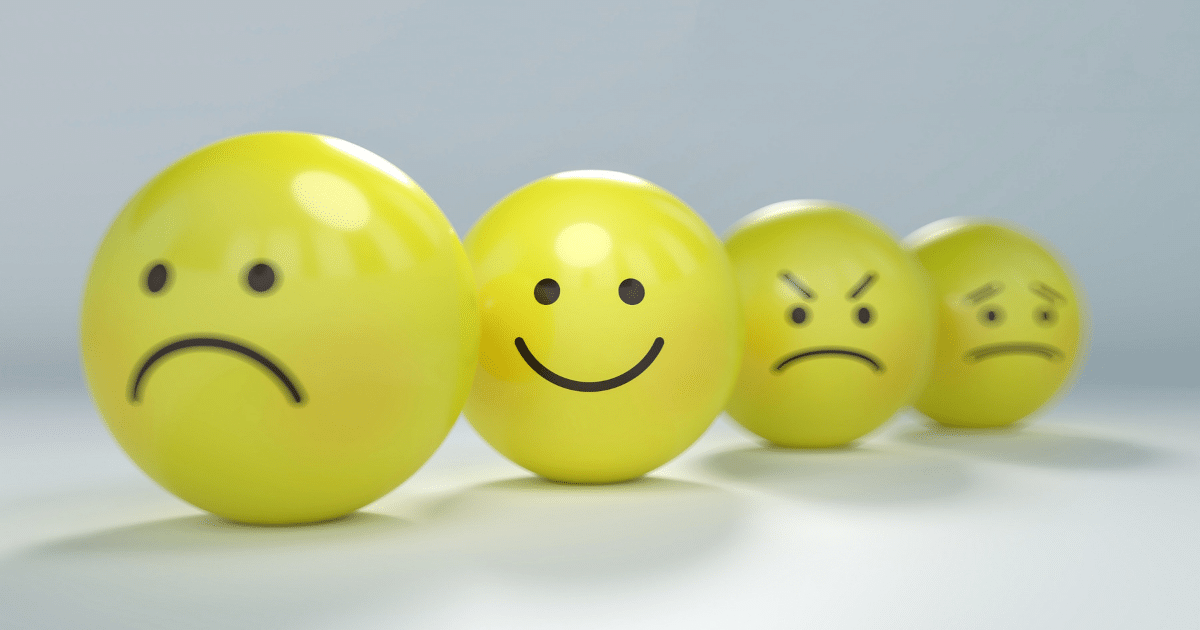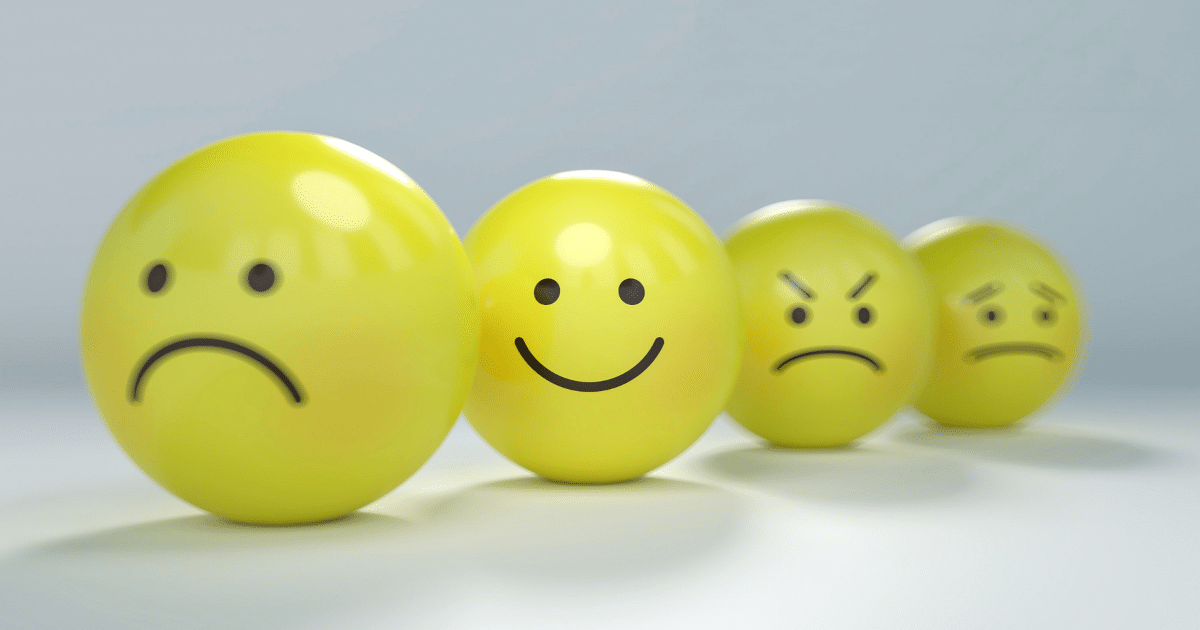 😄= 👑📱🌎
Did you get that?
Emojis. You love them, we love them, and 92% of the online population uses them. Emojis have managed to worm their way into almost every channel of digital communication available today. Each messaging app has its own unique set of emojis, portraying emotions ranging from 😂 to 😘 to 🤬, objects such as 🎉, 🛁, and 📌, and a glorious amount of food, like 🍕, 🥑, and 🍣. 
For World Emoji Day, let's look back on how it all started. The first set of emojis was created by Japanese artist Shigetaka Kurita in 1999. This batch of 176 emojis was mainly used to effectively communicate across Japanese platforms with limited amounts of characters allowed. It wasn't until 2010 that emojis became popular enough to be placed into Unicode, the governing standard of textual software coding, and 722 brand new ones were added to both iPhone and Android keyboards. In 2015, hundreds of diversity centric emojis were created, including a wider range of ethnic foods, more female representation for occupations, and different skin tones for each person-based emoji.
Today, there are about 2,800 emojis available through Unicode and thousands of downloadable originals created by fans. Emojis have established themselves as a mainstay within social media, but that's not where their use has ended.
The truth is that emojis in a tweet can increase engagement by 25.4%, and emojis in a Facebook post can increase the number of likes by 57%. 😱 Over the last few years, it has become increasingly apparent that branded social media posts need to incorporate current trends to stay relevant. Companies have played around with using emojis, but what is the best way to work them into your social media strategy?
Catching Your Audience's Attention
Emojis provide a visual way to convey the meaning of a text, tweet, or even a marketing campaign. In an age where a simple period at the end of your sentence means passive aggression, emojis are the digital version of in-person intonation and body language.
In face to face conversations, words only convey 30% of communication. Emojis help bridge the gap in digital communication by adding emotions to statements like facial expressions and body language do in real life. Dog food subscription startup tails.com does a great job using emojis on their Twitter account to add a level of sassiness and fun without awkwardly using words to describe the emotion.
When you remember it's Friday! 😏
.
.
.#tailsdotcom #coffeethecorgi #fridayfeeling #ukdogsofinsta #puppygram #corgisofinstagram https://t.co/OFnVgqi4ZU pic.twitter.com/gQ8TTX7kxl

— tails.com (@tailsdogfood) June 28, 2019
I think we can agree that *smirk* doesn't have the same effect as 😏.
Emoji use in marketing doesn't have to end on social media. Google Ads guidelines have recently become more lenient to emoji use within the ad text, allowing your ad to stand out and capture your audience's attention. In fact, by placing a relevant emoji in your Google Ad, you can increase your click-through rate by 30%. So, maybe it's time to start plugging in the ⚡️ emoji to advertise your lightning sale. 🤔 And if you're looking to increase clicks on mobile apps, good news! Push notifications containing an emoji lead to an average increase of 124% in click-through rates. These emojis quickly capture the viewer's attention and increase the odds of clicking on the notification. 📈
Humanizing Your Brand
Adding a simple 😁, 💜,  or 🎉 to your social posts and email newsletters can remind your audience that there is a human behind this brand communication. Casually engaging with customers online using informal language, well-researched slang, GIFs, and emojis show that your company is approachable and isn't afraid to have fun. 86% of consumers prefer an authentic and honest brand personality on social networks, so it's a good idea to brighten up your feed with some warm and light-hearted posts. Workplace communication app Slack has mastered this by combining some of these techniques and encouraging account followers to connect with the brand.
Quick quiz: If you had to pick a favorite emoji you use every day in Slack, which would it be?

— Slack (@SlackHQ) June 24, 2019
Here, Slack recognizes the popularity of its emoji react function and invites its users to vote for their favorite. This pulls the audience in and gives them a fun activity to do while still thinking about the functions of the application. 
Co-working space startup, WeWork, also makes an effort to consistently include emojis in tweets to ditch the formality.
RT if you're ready to turn the second half of the year 🆙 🔥 #mondaymotivation pic.twitter.com/56wt6lh5Qb

— WeWork UK (@WeWorkUK) July 1, 2019
Asking followers questions with relevant emojis conveys humor and relatability while tempting them to engage in conversations with the company itself.
Emojis show that your company has a personality beyond promoting their products or services. Communicating with your audiences like how you would communicate with friends or family not only helps this personality shine but also shows that you care about your customers or clients. 
Setting Your Brand Apart
Brands are always looking for new ways to increase and engage their audience, and emojis could be the answer. Big companies have experimented with this in the past with huge attention-grabbing emoji campaigns, such as Chevy's all emoji press release.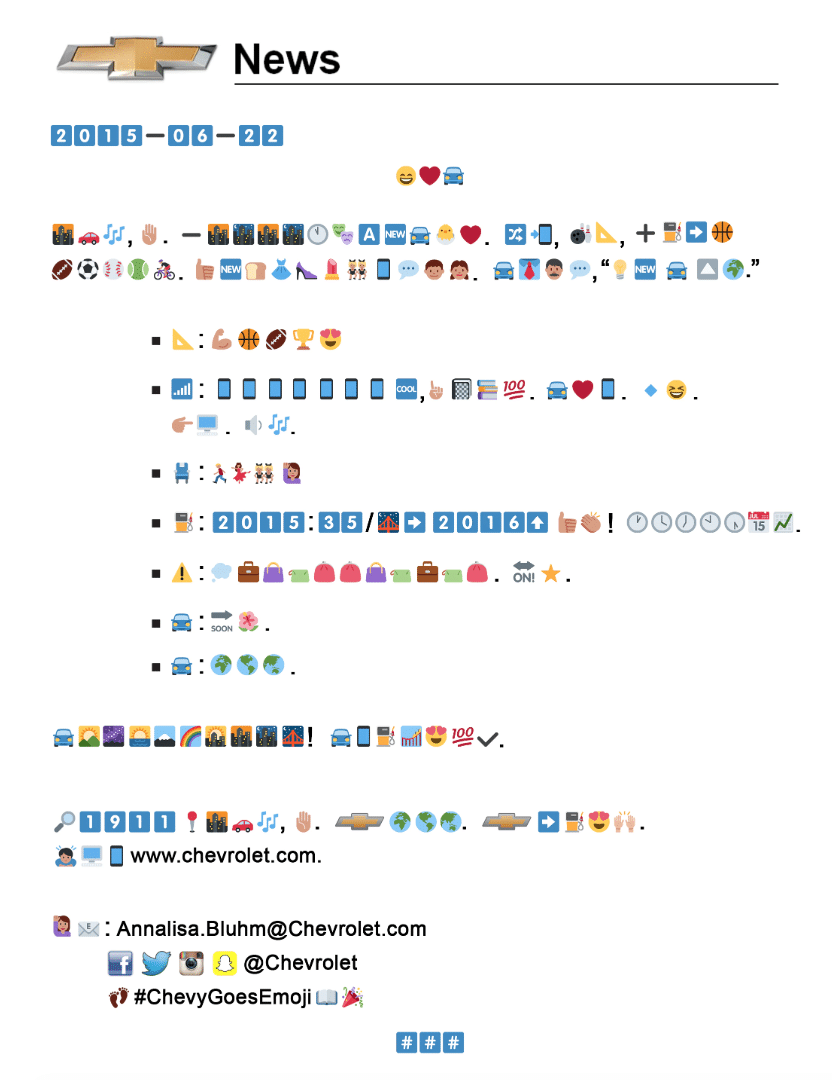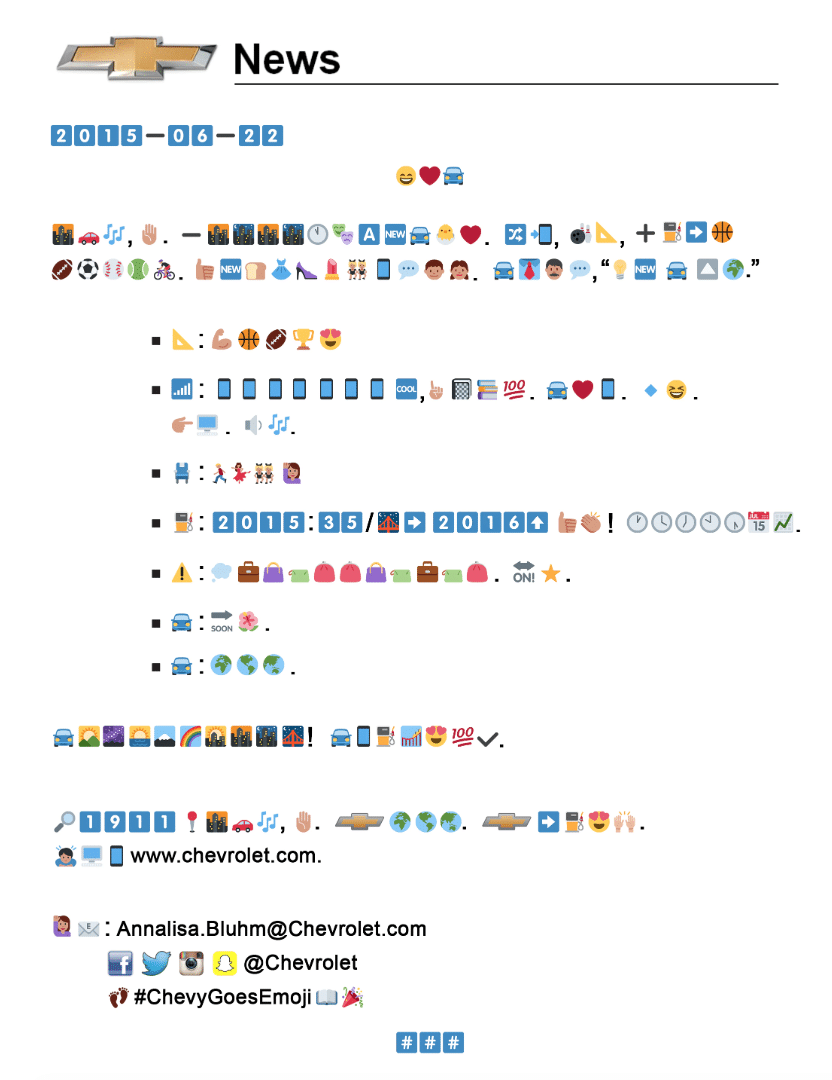 Even though the majority of people reading this release had no clue what it meant, the generated buzz was priceless. Publications like Business Insider, Wired, Inc., and USA Today all took the opportunity to share this piece with their readers, gaining even more traction than a typical press release would.
Another notable use of emojis in social media is WWF's endangered species campaign. If you posted an endangered animal emoji on Twitter, you could donate $0.10 per emoji toward animal preservation efforts. Within two months, the campaign sparked 559,000 mentions and 59,000 sign-ups and even caught the attention of Russell Crowe and Jenson Button.
We're using #EndangeredEmoji to save real animals from extinction. Please retweet to sign up and help. pic.twitter.com/hX1p1GEDZ9

— WWF 🐼 (@WWF) May 12, 2015
These campaigns are huge, creative, and require a strong and established online presence; things a startup may not have initially. But, that doesn't mean you can't use emojis to help your social media posts stand out against everyone else's posts. Simply using emojis within your social media posts can break up the visual block of words and add a splash of color to black text. Flower delivery startup Bloom & Wild does this amazingly well. By placing relevant emojis at the end of their sentences, they emphasize keywords and themes while adding a bit of charm to their tweets.
Sunflowers + scented stocks + delphinium = sunshine in a vase 🌻https://t.co/TOh3nJzfIf pic.twitter.com/Vbsb7HsvkT

— Bloom & Wild (@BloomandWild) June 30, 2019
Start out small to test how emojis could fit into your social media strategy and help you stick out within your industry. Who knows? Maybe you'll have the next genius emoji marketing campaign.
Within a saturated online landscape, it can be difficult to break through the noise and gain recognition. Emojis liven up your social media and add a new dimension of personality to your brand. Next time you're writing company tweets for the day, throw in a little ✨, or 😝, or even 👀, to elevate your social media game and get noticed.