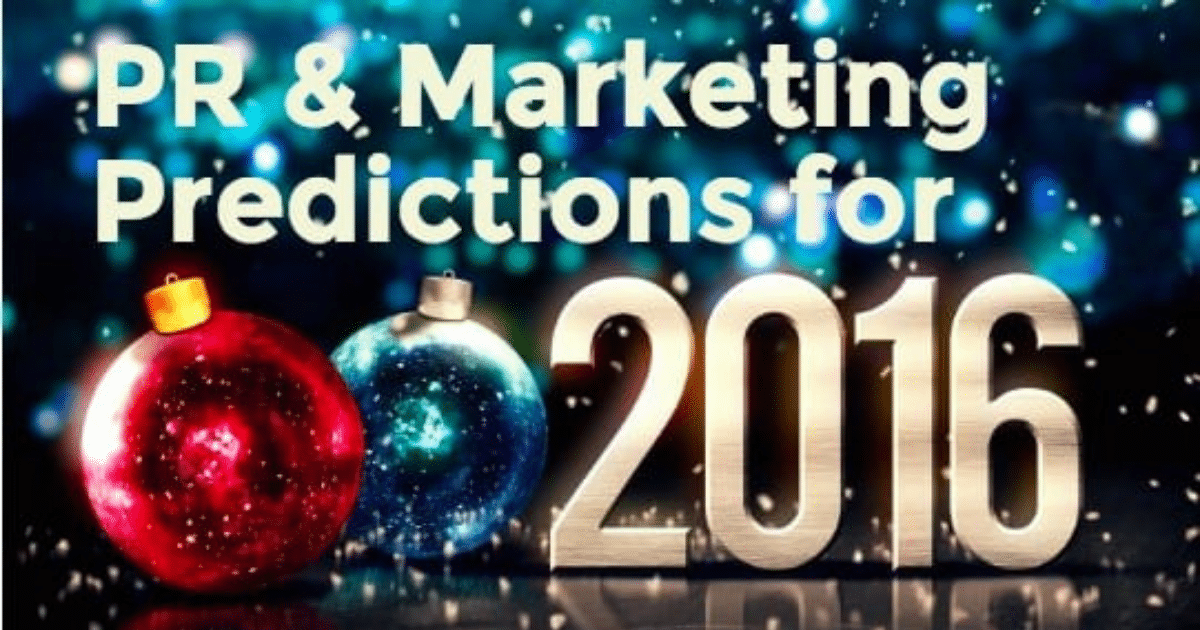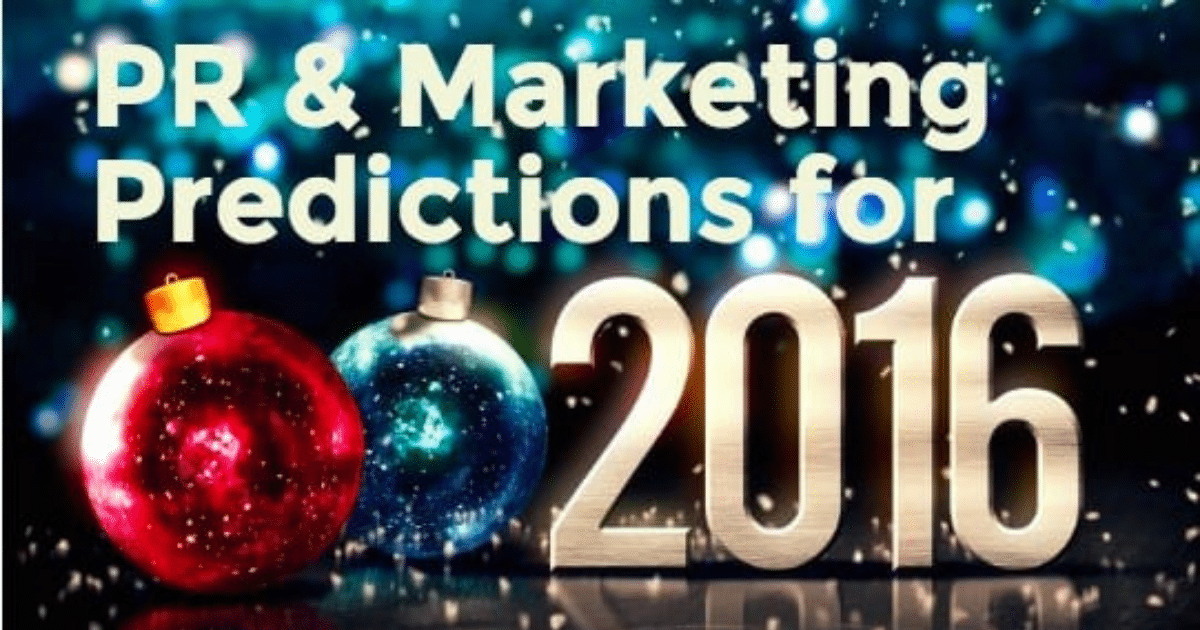 As the New Year approaches, it's time to reflect back on 2015 and look forward to 2016. For BMV, 2015 was an exciting time that saw us working with some really incredible clients doing amazing things in the spaces they operate. We're honored to help these startups continue to push boundaries, disrupt industries, and delight customers.
As we continue to help companies grow, it's only right that we look at some of the areas in our discipline that allow us to do this and make some predictions for 2016.
1. Mobile video will become even more important and targeted in 2016
More and more, videos have become a hugely important piece of a brand's marketing efforts. But with our collective attention span on a steady decline (currently at about 8 seconds), marketers continue to look for a better way to captivate people and drive them to action. One of the areas they've turned to is mobile, and for good reason: of all minutes watched on YouTube, 40% is on smartphones, and millennials are 2x more likely to be focused when watching video on their smartphone than TV.
Where mobile was once an afterthought, 2016 will see marketers reversing their thought process and thinking mobile first. Rather than viewing content on state-of-the-art screens and stereo systems, marketers should QC their work on their phones using a cheap pair of headphones and see if it still holds its weights. 
Aside from quality, brands need to make sure that their video has a purpose beyond hawking goods and services. As Winston Binch, Chief Digital Officer at Deutsch LA, and the man behind VolksWagen's SmileDrive app, which uses YouTube to turn people's morning commute into a shareable experience,  put it, " [It's about] facilitating a remarkable experience, not about just putting a message out there"
With more and more brands hopping on the mobile video train in 2016, they'll be forced to compete for attention. One of the ways they'll be doing this with increased frequency is by tapping into mobile video micro-moments
As Google puts it, video micro-moments generally fall into four categories: "I want-to-watch-what-I'm-into" moments, when people are seeking videos on their passions or interests; "I want-to-know" moments, when people are trying to learn something; "I want-to-do" moments, when they're looking for step-by-step instructions on how to make or do something; and I "want-to-buy" moments, when they're using video to try before they buy.
In 2016 brands will need to reimagine their customer's journey as a collection of these video micro-moments and have rich, value content that aligns with their brands at each of them.
2. Startups will join the influencer marketing fan club in droves
2015 was the year of the influencer. While YouTubers and social personalities have been leveraging enormous followings to make surprising amounts of money for some time now, influencer marketing really took hold in 2015. So much so, that a number of influencer marketplaces like Reelio and Vizified have sprouted up to connect brands with influencers who can help.
What these companies and the personal brands they represent are tapping into is the impact that influence has on driving purchase decisions:
92%

of people trust recommendations from other people – even people they don't know – over advertising content.

Customers acquired through word-of-mouth have a

37%

 higher retention rate.

59%

percent of those marketers believe in influencer marketing so firmly that they plan to increase their ad budgets for it within the next 12 months.
While big brands like L'Oreal and Lancome are able to pay YouTube influencers like Michelle Phan millions to reach her network of 8 million subscribers and 1 billion+ views, startups may wonder if influencer marketing is a viable strategy for their cost-conscious budgets. But as Niccolo De Masi, CEO of Glu Mobile, and the man behind the wildly successful Kim Kardashian Hollywood Mobile Game recently told us on our SeedStories podcast, "There is value throughout the stack."
You may not have six figures to align yourselves with A-list influencers, but as De Masi says, "Startups can absolutely align themselves with very focused participants in social media that are relevant for what they are trying to do. There will be pockets of people interested in your genre who have effectively aggregated an audience on that."
So sit back and watch as startups look to find the perfect marriage between their brand and influencers in 2016.
3
.
Brands will look to personalize EVERYTHING
Personalization is not a new topic, but we see 2016 as the year that companies look to personalize on new fronts — scratch that — ALL fronts. From Bluecore, a marketing automation solution focused on personalization, raising a $21 million series B round recently, to what companies like Next Caller are doing for call centers, companies are hyper-focused on personalizing how they interact with customers.
In Adobe's 2014 and 2015 Digital Roadblock Survey, marketers listed "targeting and personalization" as their most important priority. This urgency to personalize will only increase in 2016 as data continues to reinforce the need to do so:
With advances in data-driven software, geolocation technology, and programmatic advertising, companies can deliver timely, relevant content in ways never possible before. According to a Magna Global forecast, worldwide spending on such programs will grow at an average annual rate of 27% through 2018, when it will reach $53 billion.
In 2016 brands who haven't caught on to the fact that personalization is key to success will. And if they don't, they may not have such a happy New Year.
4
.
Adblocker adoption will decrease as brands & publishers focus more on user experience
Media companies and marketers have been in full panic mode as ad-blocking technologies have been fighting to end the crappy experiences caused by pop-ups and display ads that frustrate the hell out of us on a daily basis. And for good reason; in 2015 companies will spend nearly $60 billion dollars on digital ads. That's a lot of money hanging in the balance.
With the adoption and availability of ad-blockers on the rise, publishers are scrambling to find ways to make sure that the ads on their networkers are seen. As Scott Cunningham, SVP at the Interactive Advertising Bureau, said recently during an appearance at IAB Mixx Conference,  "There's a war between engineers." On one side you have people trying to figure out how to beat algorithms and enhance experiences to circumvent the ad blocking brigade who is continuing to find new ways to squash these efforts on the other side.
As different types of ads, including natives, continue to come under fire, companies will engage more PR firms and content shops who can help them develop and secure earned or sponsored content that is immune from blocking software. As our own Kyle Austin puts it, "The best native or sponsored content will continue to be deep engagement between brands and publishers around issues that are relevant to both of their audiences. This content won't be blocked and will provide real value that drives results."
In a recent piece in AdWeek, Why the Humble Banner Ad Is Not Dead, Giles Goodwin surmised that there is still hope for the most loathed form of ads – the banner. Giles said, "If programmatic creative platforms gain large scale traction, we will start seeing fewer static banners, more relevant content, and increasingly compelling applications served in those banner boxes. And users will respond accordingly."
Perhaps it's true that if banners become less intrusive and start providing a better user experience, the marketers can begin to re-engineer the public's perception of ads and ultimately decrease the desire to block them.
5.  More brands will jump on the podcasting bandwagon
According to Pew's recent State of the News Media 2015, podcasts have maintained a steady growth trajectory over the past decade. In 2008, only 9% of Americans polled had listened to a podcast. Seven years later, that number has more than doubled, with 17% reporting that they've listened to a podcast in the past month. 2016 will see these numbers increase dramatically as brands create and interact with podcasts like never before.
With case studies in hand proving their ability to capture and aggregate highly engaged audiences (think Serial) and brands already starting to tap into those audiences (think Pandora's partnership with Serial), we will see a voracious rise of marketing efforts centered around podcasts in the new year.
Another example that bodes well for this prediction is the recent success that GE has had with it's branded podcast, the Message. Written by playwright Mac Rogers, The Message has one million-plus listeners who recently pushed the eight-episode series into the No. 1 podcast slot on iTunes.  With indirect ties to themes that are important to General Electric, woven into a fantastical story, The Message is a shining example of a new form of sponsored content that can have a real impact.
Brands are quickly following suit, engaging with firms like Gimlet, which was recently created to help brands create high-quality narrative podcasts. Similar to the influencer marketplaces that are popping up to connect with brands with social personalities, companies like Gimlet have picked up on these trends and are now capitalizing on them.
Podcasts also hit on the trend of consumers wanting to do away with ads that ruin their user experience. While some podcasts do mention sponsors during the broadcasts, there aren't several minute long interruptions caused by advertisements.
Here are some more reasons why we think podcasts will increase in popularity in 2016.
We'll continue to update our predictions for 2016 as the New Year approaches? In the meantime, tell us yours — we'd love to hear them!