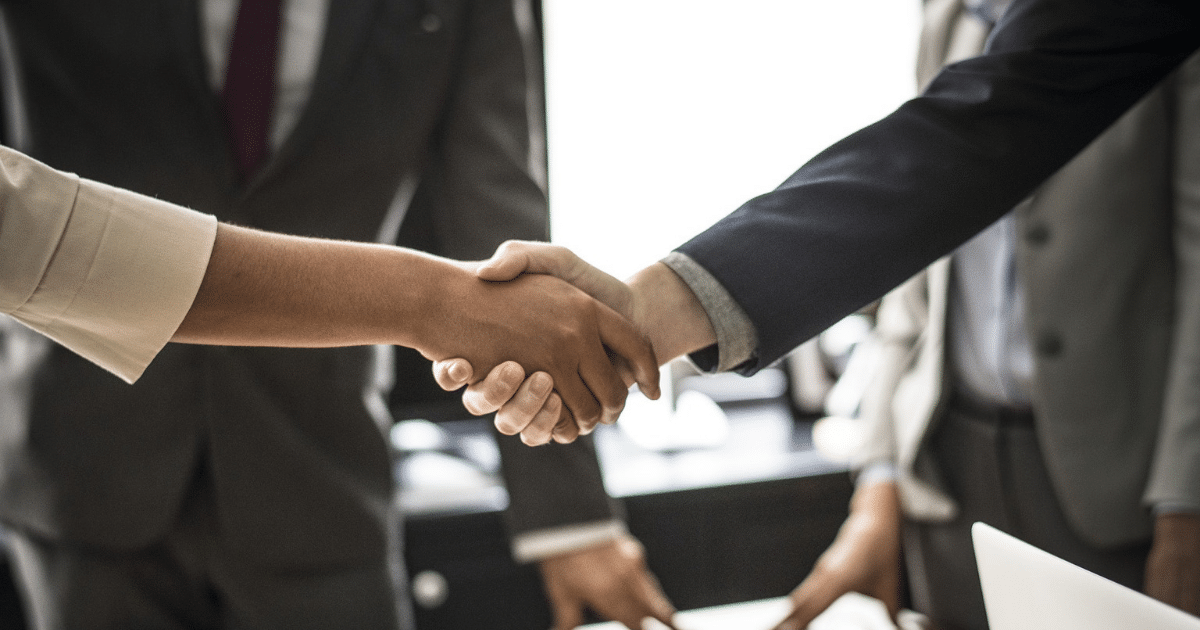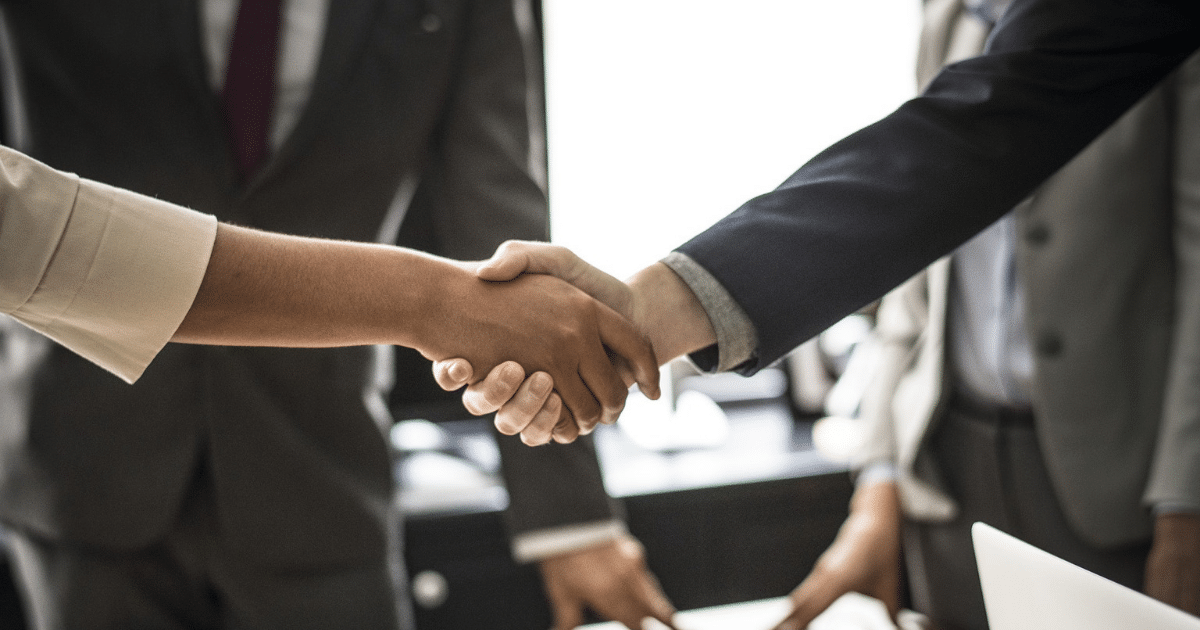 It's no secret that friends are some of the most influential people in our lives. For almost half of the population, friends and family are the top sources for brand awareness, affecting what services we like, what products we use, and what clothes we wear. This National Friendship Day, we want to celebrate the number one way healthy relationships can help your business grow: referrals.
85% of small business owners say the best way to acquire new customers is through referrals. And when pursuing referred leads, the closing ratio is 60% instead of only 10% with cold leads. These numbers provide insight into exactly how important utilizing our networks can be, whether it's through current customers, friends, or family. Referrals are one of the most promising and consistent ways to build your customer base, so what's the secret to unlocking this lucrative trend?
Maintain Current Relationships
You can't rely on referrals when there's no one to refer you! Maintaining good relationships with your current clients or customers will not only convince them to come back to you for further business but also tell their friends about your company as well. 
68% of customers leave a business because of 'perceived indifference,' meaning they didn't think your business cared about them. Like personal relationships, showcasing your appreciation for the time and effort customers devote to using or interacting with your business is key to cultivating a healthy and beneficial relationship. This demonstrates that you don't see them as just another number and have invested interest in making sure they're happy with your product or service.
Customer appreciation can take many forms, including offering a rewards or loyalty program, giving away company-branded items, hosting customer raffles, or even just thanking them with a personalized email. 
T-Mobile is a company that has always been a leader when it comes to customer appreciation. In 2016, they launched their T-Mobile Tuesdays program, offering their customers different rewards every week. These perks range from discounts on popular food brands such as free Taco Bell to inexpensive concert tickets to free T-Mobile promotional items.


After reaching a huge company milestone, organizational web app, Trello, knew how to show they care. In addition to an adorable thank you email, Trello also thanked their customers with a giveaway to celebrate hitting 10 million users.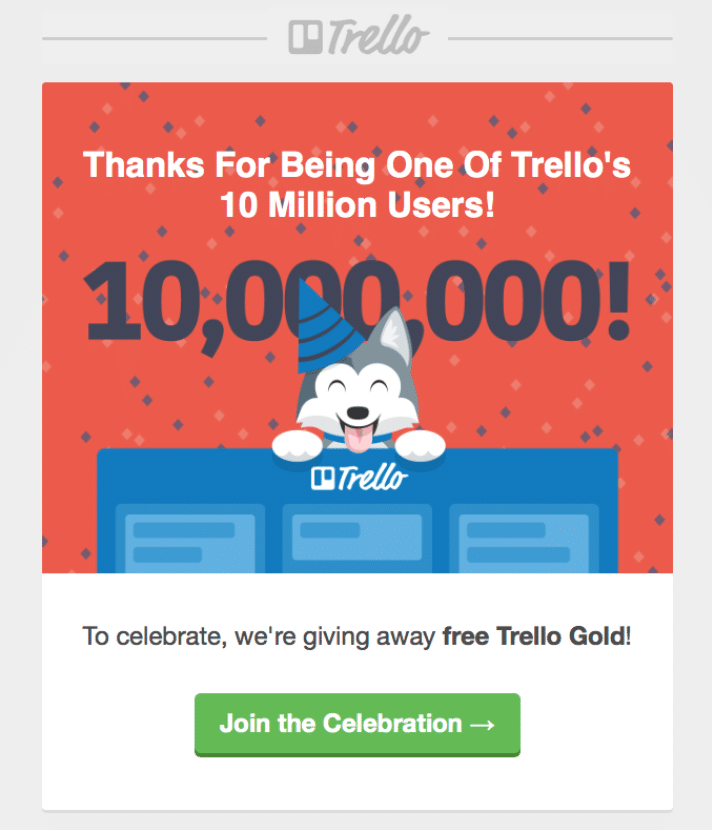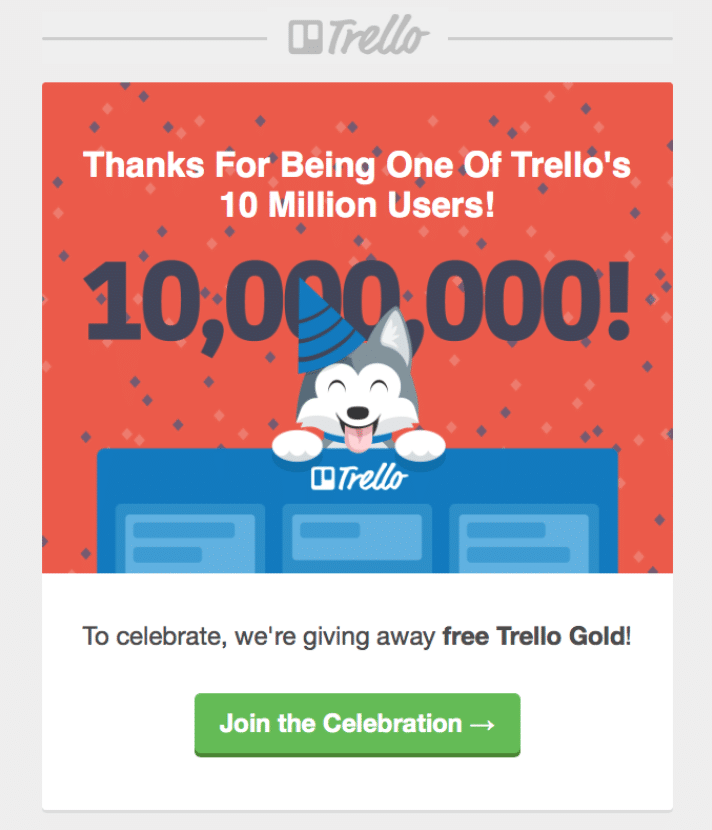 While this may seem time consuming or expensive at the moment, acquiring a new customer is 5 times more expensive than keeping an existing one. In the long run, happy customers are more likely to develop company loyalty and bring in more business through word of mouth.
Go Out There and Get It
While it might be more comfortable to sit back and hope your customers are talking up your company, the rewards will be few and far between. For B2B companies, 84% of buyers kick off the process with a referral. So, how do you access these opportunities? The key to actually getting a referral is to ask for it. 
Asking for an introduction to a potential customer is the fastest and most direct way to reach new audiences. However, even though 91% of customers are willing to give referrals, only 11% of salespeople actually request them. If you have gone above and beyond for your clients and customers, and have effectively maintained a healthy business relationship, they will be happy to introduce your products or services to others and feel confident doing so. 
But your requests don't have to stop at your satisfied customers: your best networks could be your friends and family. The people closest to you can be the people you rely on the most if they have an interest in watching your business grow. Don't be afraid to reach out and ask them to spread the word about your service because chances are, they will pass it along. In the end, there is nothing to lose and everything to gain by simply asking to spread the word about your business. 
Finally, while emails and phone calls are great, you can't beat the immediate communication and impressions that come with face-to-face meetings. 85% of professionals say they develop a more meaningful relationship after meeting someone in person, opening the door to a future partnership. It's possible to meet potential customers by attending networking events relevant to your industry or an event hosted by a client or friend. Meet people through an introduction or just walking up to them and talking. 
Incentives Make the World (or Business) Go Round
The average small company gets 60% of its business from referral campaigns and programs. Utilizing tactics such as rewards for referrals not only incentivizes existing customers to refer you to their friends but also encourages new customers to sign up for your business by giving them a little something extra. These referral programs could include a free trial of a paid service, 20% off the first purchase, free money to invest, or a donation to charity; whatever you have to offer can make a tantalizing incentive for your customers.
For example, Skillshare, a video-based skill-building website, offers a referred friend two free months of premium access to their content. If the student continues on the paid plan, the referee receives one free month as well. This is a great incentive because it shows the new member the full extent of what the website can offer which pulls them in and increases the likelihood they will become a paying student.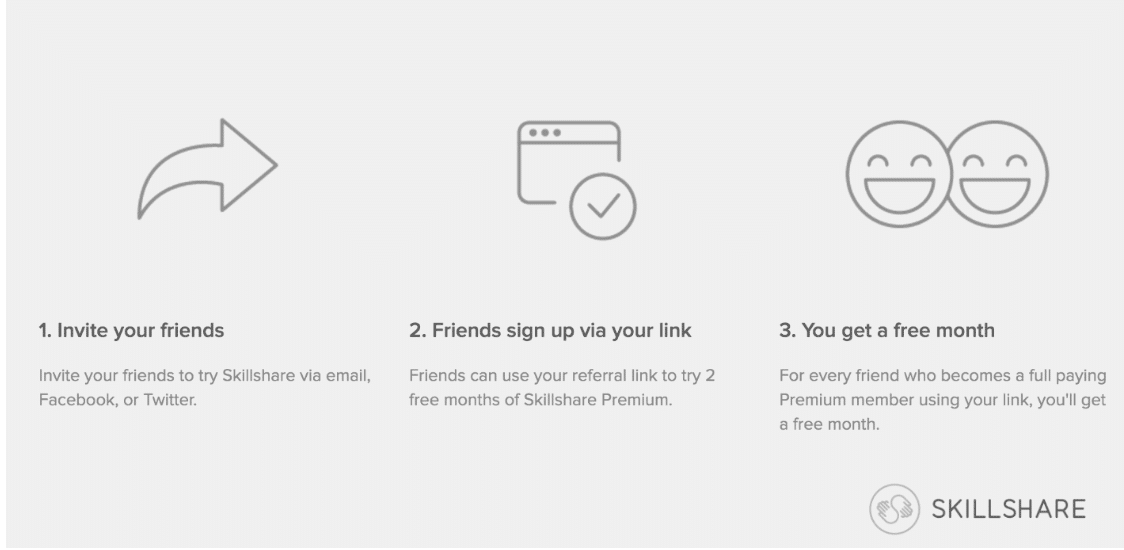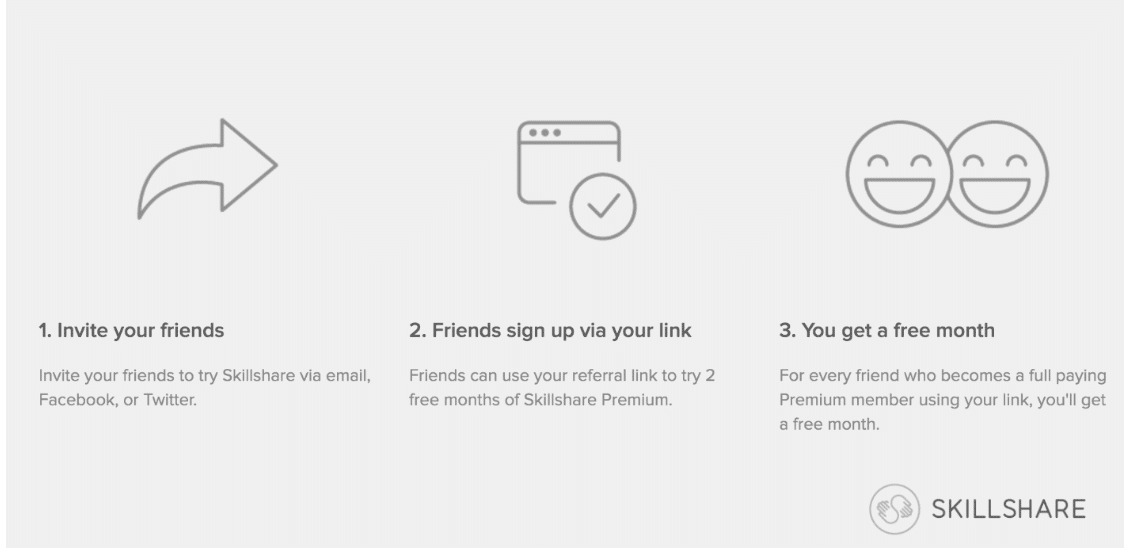 Taking a slightly different approach, restaurant management software company, Upserve, uses a charity-based referral program. If a user refers a friend who signs up for their service, the company will donate $200 to the Clean Water Fund to help stop global water issues.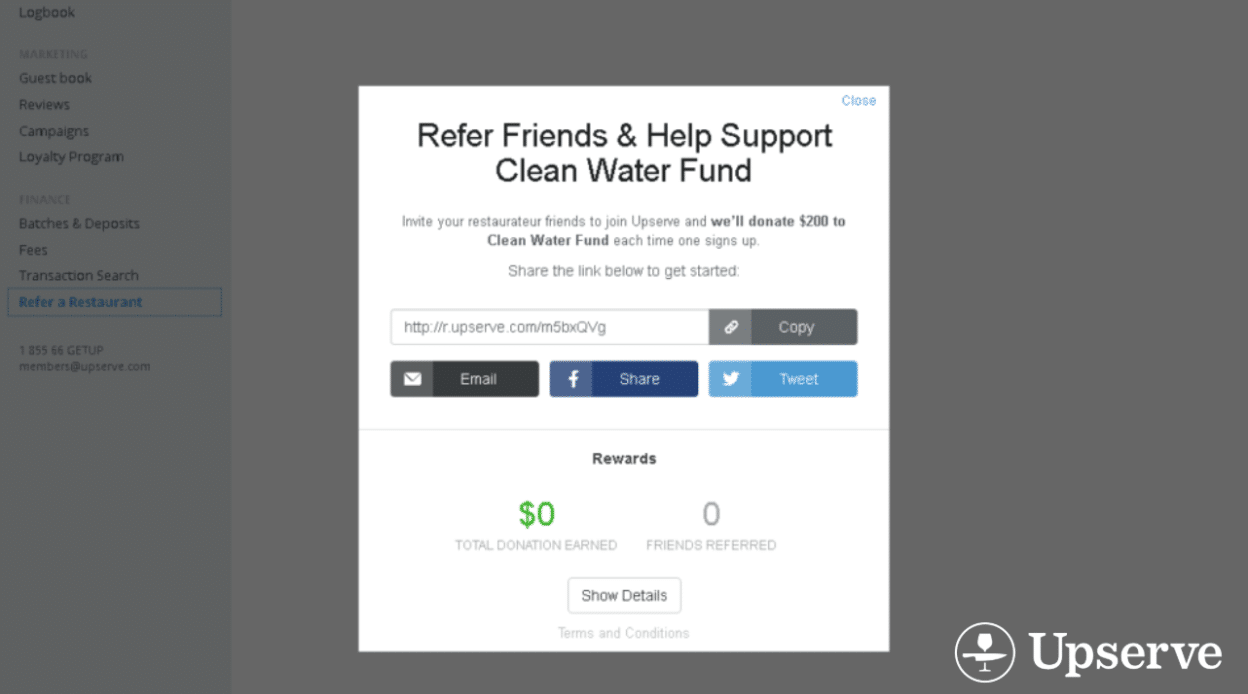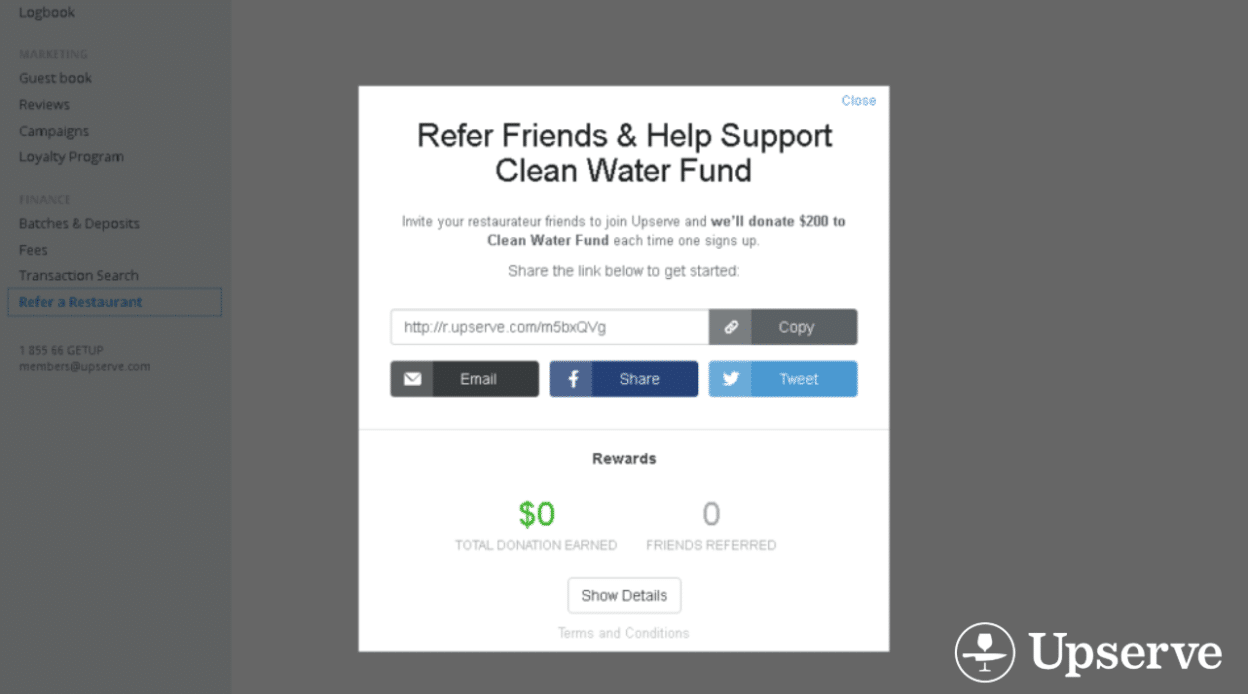 Research shows that 89% of Gen Z would prefer buying from a company who supports social and environmental issues over one that does not. Providing a charitable incentive could bring more traction and loyalty to your company, especially from younger generations. Additionally, it has been proven that helping and giving creates more happiness than receiving, so this type of referral program lets your customers feel good about themselves while your company does something great by contributing to a worthy cause. This can lead to elevated trust and a better relationship between your business and the client while also building your reputation as an honorable company.
Referral programs are truly gifts that keep on giving: customers who were referred to your brand are up to 5 times more likely to use your referral program than those who weren't. Yet, despite the huge benefits, only 30% of companies have a formalized program. Don't miss out on continuing relationships with old customers, forming new ones with their referred friends, and expanding your audience reach with an incentivizing referral program. 
Healthy and long-lasting relationships are key to keeping your business running, whether that means maintaining your current clients, relying on friends and family to spread the word about your company, or building a new relationship with a referred customer. Referrals indicate a satisfied customer base, help your business reach new demographics, and can offer rewards to those willing to try out your service. Overall, referrals are a consistent and incredibly effective way to guarantee company growth and form mutually beneficial and meaningful relationships with new customers.