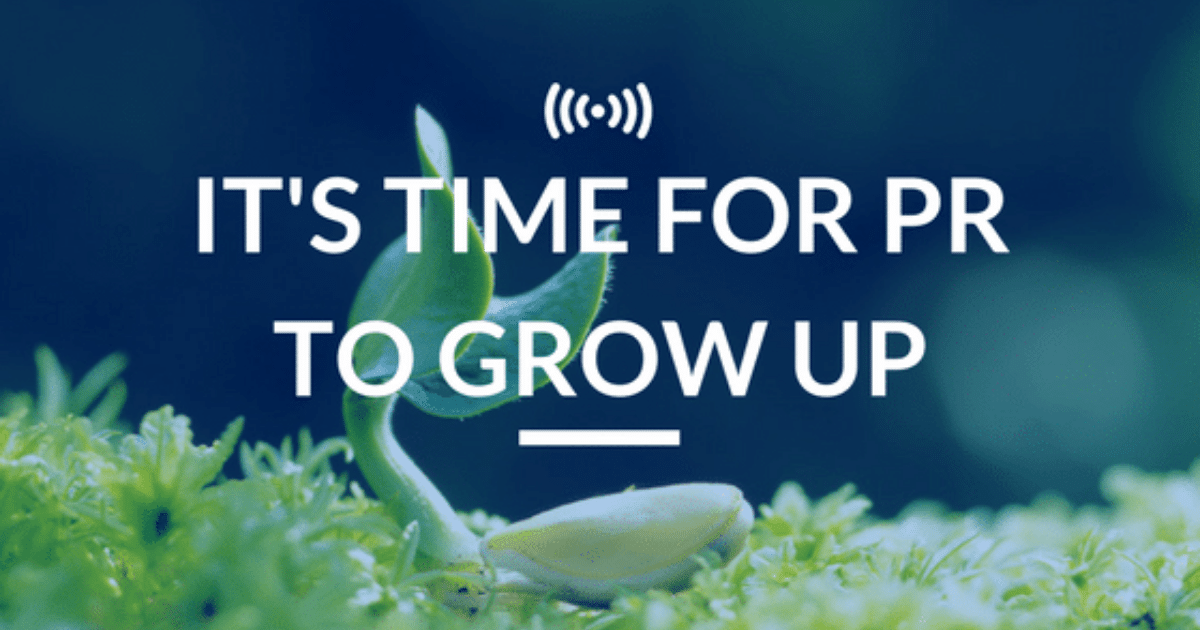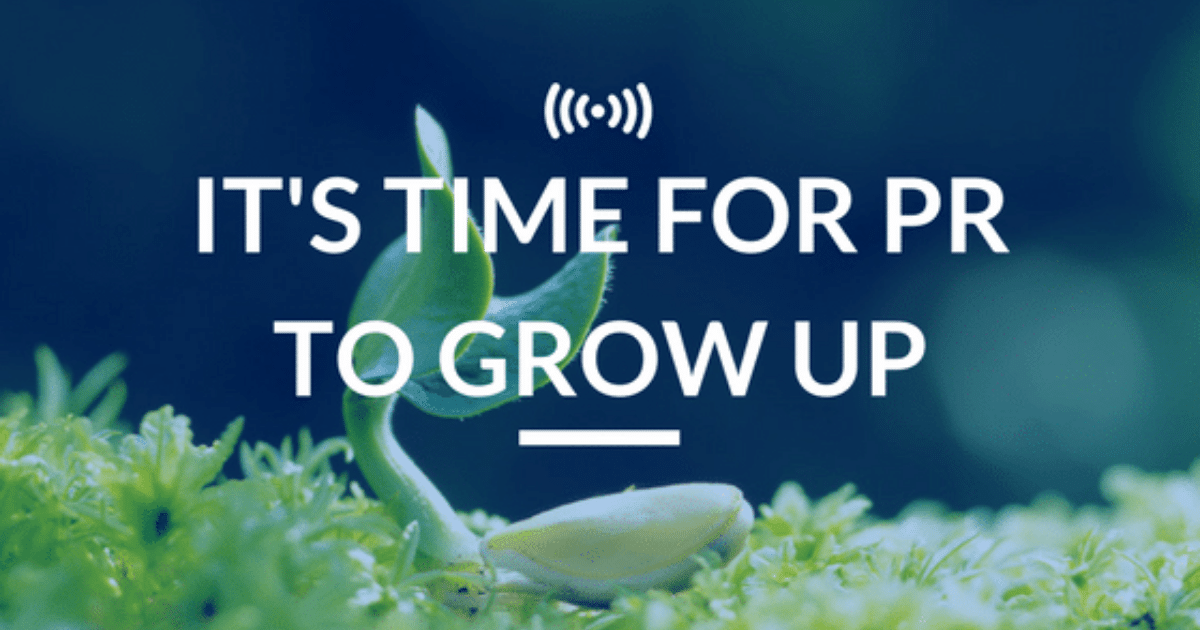 Hopefully, this does it! Because, frankly, I'm tired of answering the question of whether or not public relations is appropriate for startups. So here's my answer — once and for all:
Well, not yet… allow me to set the stage first.
PR's place in the startup world is a topic that has been debated for a long time, but more frequently recently as founders and their teams look to harness whatever they can to avoid becoming just another statistic.
On one hand, you have famed entrepreneurs like Bill Gates and Richard Branson who argue that public relations is absolutely crucial in helping startups succeed.
Yet, on the other hand, people like Mark Cuban and equally astute entrepreneurs stand firm on their belief that startups should almost never hire a PR firm. The naysayers are everywhere. In fact, look at what appears when you search "Should a startup hire a PR firm?"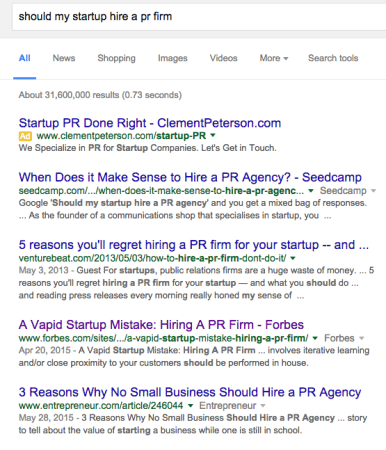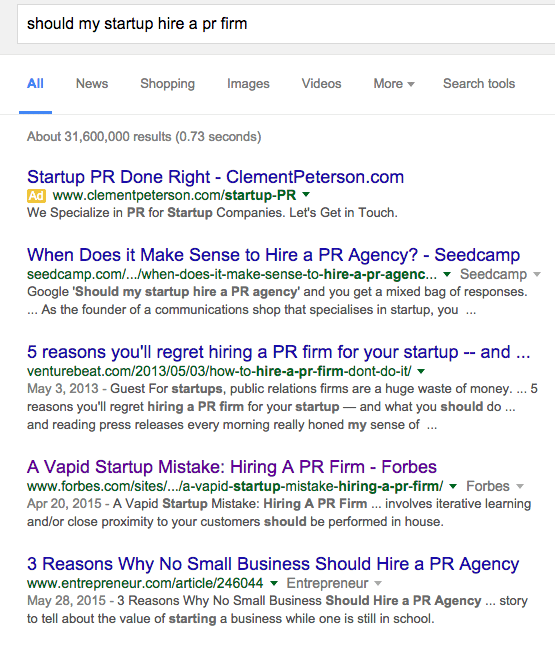 This is strange to me on a number of levels.
First, the typical 'hit' on PR says that it is a waste of time and money; a drain on critical resources that no startup can afford. They even go so far as to say that hiring a PR firm is a "rookie mistake". Yet, many of these same experts are quick to recommend that startups should dedicate as much as 12% to 20% of their revenue on marketing.
Any student of communications knows that the lines between PR and marketing have blurred significantly over the years. In fact, agencies like ours are major proponents of combining different disciplines and tactics, i.e. media relations + content marketing, to deliver a much more powerful PR punch. 
PR has sadly become the redheaded stepchild of the communications family, with marketing grabbing all the love and dollars. A broad stroke of misunderstanding has painted public relations as an antiquated service that has no place in the lean, fast-paced world of startups. PR has become an abbreviation in both the literal and figurative sense. An abridgment representing a segment of the industry that has yet to evolve their practice to meet the unique needs of the startup community.
An article I recently came across illustrates this misperception perfectly. It said in part:


While I was dismayed to see this blatant misunderstanding of what PR can and cannot do, I was relieved to see another commenter attempt to clear things up a bit.


People who write these kinds of stories are not entirely in the wrong because their definition of PR comes from an old book. You see, while marketing has sprouted off innovative techniques and practices like Growth Hacking, so too has PR. The truth is there is a type of PR that has a place in EVERY startup, at almost any stage in their lifecycle. Its name, although a little less sexy (because we haven't thought of a better one) is Growth PR.
Growth PR looks outward AND within, examining all areas of potential growth and influence, from owned content and SEO strategy, to earned media and influencer engagement, weaving them all together to create one of the most efficient and effect drivers of leads, users, and overall engagement. It sheds fat and drives forward with only the most effective methods. And storytelling… don't get me started on storytelling; true Growth PR can shape and tell stories that sell themselves.
Here's the difference between the PR people think startups should avoid and the Growth PR entrepreneurs and founders would be foolish to avoid.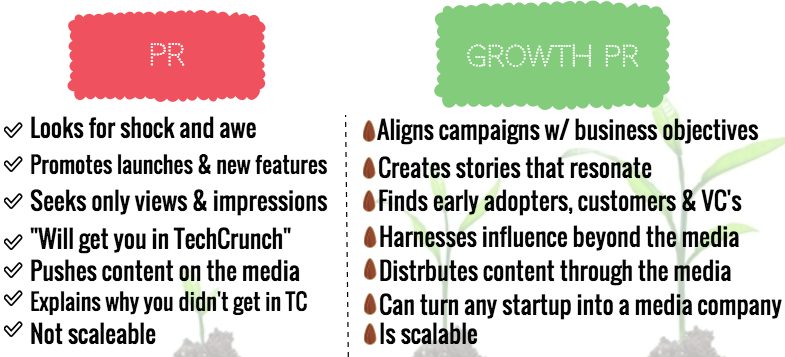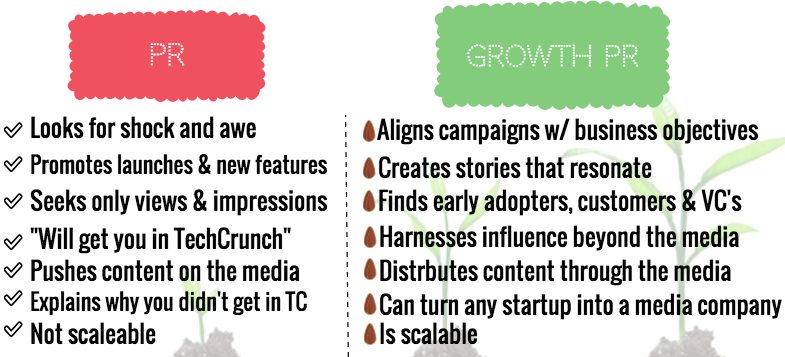 While we acknowledge that there are plenty of PR firms who wrongfully claim that they are a startup-centric shop, there are good agencies and practitioners out there who can combine a true understanding of the startup ecosystem with expertise in growth public relations and digital marketing to help your startup grow.